MOST WANTED on Blu-ray and Digital
Paramount announces the upcoming release of Most Wanted on Blu-ray and Digital on September 22, 2020, starring Antoine Olivier Pilon, With Jim Gaffigan And Josh Hartnett.

Synopsis:

Inspired by the gripping true story, an investigative journalist (Josh Hartnett) unravels a twisted case of entrapment in which Daniel (Antoine Olivier Pilon), a guy from the wrong side of the tracks, is forced into a dangerous drug deal against his will and is sentenced to 100 years in a Thai prison. As Daniel endures torture and abuse, the journalist must track down the shady undercover cops benefiting off the conspiracy, while also fighting for Daniel's freedom...

Continue reading: MOST WANTED arrives on Blu-ray and Digital September 22nd from Paramount in News.
THE BURNT ORANGE HERESY on Blu-ray, DVD and Digital
Sony Pictures Home Entertainment announces the upcoming release of The Burnt Orange Heresy on Blu-ray, DVD and Digital on August 25, 2020.

SYNOPSIS
Charming and ambitious art critic, James Figueras (Claes Bang), has fallen from grace. He spends his days in Milan lecturing witless tourists about art history. His only glimmer of hope is a new-found love interest, the enigmatic American, Berenice Hollis (Elizabeth Debicki). An opportunity strikes when he is contacted by the wealthy art dealer Joseph Cassidy (Mick Jagger) who summons James to his villa on Lake Como and asks him to steal a painting from the legendary reclusive artist, Jerome Debney (Donald Sutherland). Soon, James' greed and ambition get the better of him, and he finds himself caught in a web of his own making...

Continue reading: THE BURNT ORANGE HERESY debuts on Blu-ray, DVD and Digital Aug. 25 from Sony Pictures in News.
LG Tone Free Wireless Earbuds
LG Electronics Canada (LG) announced its Canadian debut of the LG TONE Free, its first true wireless earbuds in the market (models HBS-FN4 and HBS-FN6). The innovative product features Meridian technology for the best sound quality and a unique UVnano charging case that eliminates 99.9 percent of bacteria on the part of the earbud closest to your inner ear with a 10-minute charge.

The flagship FN6 model's industry-first UVnano charging case is UL Verified to reduce bacteria based on a new ultra-violet-light test protocol developed by microbiology experts at UL, considered one of the world's leading safety science companies. UL verified that the UV light reduces bacteria on the earbuds' speaker mesh by 99.9 percent during the powered charging cycle.

Developed with Meridian technology, the earbuds deliver an extra dimension of sound with...

Continue reading: LG Tone Free Wireless Earbuds with Meridian Audio and Uvnano Technology Delivers Unique User Experience in News.
Belkin Thunderbolt 3 Dock Core

Belkin, the connected things division within the Belkin International and Foxconn Interconnect Technology (FIT) (HK: 6088) entity, announced the Thunderbolt 3™ Dock Core. It completes Belkin's family of Thunderbolt 3™ docks, including the Thunderbolt 3™ Dock Pro, Thunderbolt 3™ Dock Plus and the Thunderbolt 3™ Dock Mini.

The Thunderbolt 3 Dock Core, the world's first Thunderbolt™-certified, dual-powered dock, offers compatibility to bring the benefits of Thunderbolt 3 technology to both Mac and Windows laptops. Like the entire Belkin Dock family, it's designed for users who need fast transfer rates and a one cable solution to connect laptops to peripherals. The Thunderbolt 3 Dock Core has a small, compact footprint, reducing clutter and multiple cables on a desk.

For users, Belkin's line of Thunderbolt 3 docks provides a seamless connection between...

Continue reading: Belkin Completes Thunderbolt 3 Dock Family With New Thunderbolt 3 Dock Core in News.
Pizza, A Love Story on DVD and Digital
Pizza, A Love Story, filmmaker Gorman Bechard's 11 years-in-the-making homage to the world famous pizzerias Frank Pepe's Pizzeria Napoletana, Sally's Apizza, and Modern Apizza, is set for release on DVD and Video-On-Demand on September 29, 2020.

Called "An important film of staggering genius that needed to be made," Pizza, A Love Story has been selling out film festival screenings from Washington State to Alabama. Work on the film began in 2008, when Bechard and longtime friend Dean Falcone, both self-acknowledged pizza snobs, decided it was time to turn the camera on the only pizza that matters.

The film sets out to prove its tag line: "Pizza wasn't invented in New Haven. It was perfected there," by combining history, comedy, and...

Continue reading: Pizza, A Love Story debuts on DVD and Digital Sept. 29 from MVD Entertainment in News.
Red Shoes and the Seven Dwarfs on Blu-ray, DVD, Digital
The classic fairy tale of Snow White gets a modern twist when Red Shoes and the Seven Dwarfs premieres in homes and castles everywhere on Digital and On Demand September 18 and on Blu-ray™ and DVD September 22 from Lionsgate. This heartfelt and humorous action-packed animated adventure follows a princess who learns that true beauty lies within. Check out the trailer HERE and all other assets in the press materials folder below.

The film received the Dove Seal of Approval for All Ages and has been praised by Common Sense Media for its "strong body-positive theme that emphasizes the beauty of characters of all shapes and sizes..."

Continue reading: Red Shoes and the Seven Dwarfs debuts on Digital Sept. 18 and on Blu-ray, DVD Sept. 22 from Lionsgate in News.
The Resident Evil Collection on 4K Ultra HD

One of the most successful live-action video game film franchises of all time gets an upgrade when the RESIDENT EVIL 4K ULTRA HD COLLECTION arrives on November 3rd from Sony Pictures Home Entertainment. This limited-edition gift set marks the first time that fans will be able to experience all six films on 4K Ultra HD disc with High Dynamic Range and Dolby Atmos audio. The films will also be available digitally in 4K with HDR.

The RESIDENT EVIL 4K ULTRA HD COLLECTION will include Resident Evil, Resident Evil: Apocalypse (both the original theatrical version and an extended cut), Resident Evil: Extinction, Resident Evil: Afterlife, Resident Evil: Retribution and Resident Evil: The Final Chapter as well as hours of bonus content across all six films, including rare archival featurettes that have been previously unavailable on disc...

Continue reading: The Resident Evil Collection debuts on 4K Ultra HD for the First Time Ever Nov. 3 from Sony Pictures in News.
300 on 4K Ultra HD Blu-ray Combo Pack
Warner Bros. Home Entertainment announced today that 300, the highly-acclaimed 2007 cutting-edge, heart-pounding, visual masterpiece from director Zack Snyder, will be released on Ultra HD Blu-ray™ Combo Pack and Digital on October 6. Based on the stylized graphic novel from icon Frank Miller (Sin City), 300 is an epic action-adventure about the 300 Spartan warriors led by the heroic King Leonidas who challenged Xerxes and his massive Persian army at the ancient Battle of Thermopylae. Facing insurmountable odds, they fought to the death to defend their honor and freedom, inspiring all of Greece to unite against the enemy.

From visionary filmmaker Zack Snyder (Watchmen, Man of Steel, Batman v Superman: Dawn of Justice), 300 combines stunning live action with virtual backgrounds and features spectacular performances from Gerard Butler (Reign of Fire, Olympus Has Fallen), Lena Headey (TV's "Game of Thrones," The Purge) David Wenham (The Lord of the Rings: The Two Towers, The Lord of the Rings: The Return of the King) and Rodrigo Santoro (TV's "Westworld," Love Actually)...

Continue reading: Zack Snyder's 300 arrives on 4K Ultra HD Blu-ray Combo Pack Oct. 6 from Warner Bros. in News.
Scott Adkins stars in SEIZED on DVD, Digital, On Demand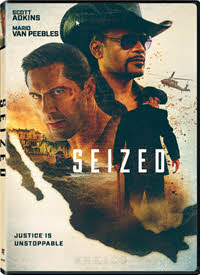 Scott Adkins stars in the edge-of-your-seat action-thriller Seized, arriving on DVD, Digital, and On Demand October 13 from Lionsgate. MMA action star Adkins plays a former Special Forces agent whose son is kidnapped and must now wipe out three dangerous crime syndicates if he wants to see him alive again. Directed by Isaac Florentine (Undisputed franchise) and written by Rico Lowry, the Seized DVD will be available for the suggested retail price of $19.98.

OFFICIAL SYNOPSIS
Hiding out with his son Taylor on the Mexican coast, Nero (Scott Adkins, Doctor Strange) hopes to put his violent Special Forces career behind him. But after Nero's home is attacked and Taylor is abducted, the mysterious Mzamo (Mario Van Peebles, Heartbreak Ridge) orders Nero to slaughter the members of three rival crime syndicates...

Continue reading: Scott Adkins and Mario Van Peebles Star in SEIZED on DVD, Digital, On Demand Oct. 13 from Lionsgate in News.
Orange Amps Crest Edition Wireless Headphones
Orange Amplification introduce their new Crest Edition Wireless Headphones; with more than fifty years of audio expertise behind them, they offer expert sound for sophisticated ears. The key features of the new headphones are reliable great sounding audio, touch controls, wireless connectivity and comfort.

The wide, well balanced refined sound of Crest Edition Wireless Headphones offers superb levels of detail with warm rumbling basslines and natural sounding highs. The spacious sound will set pulses racing and have users rediscovering their music library in a totally different way. NewAtlas.com commenting on the performance said "Over Bluetooth, the Crest cans opened up the stage nicely, giving the instruments room to breathe with the signature offering a punchy – but not overpowering or muddy – lower end, a solid mid-section and crisp, clear highs..."

Continue reading: Orange Amps Launch Crest Edition Wireless Headphones in News.
THE KING OF STATEN ISLAND on Blu-ray, DVD, Digital
Pete Davidson is THE KING OF STATEN ISLAND in the moving, comedic event of the year inspired by his own true-life story, available to own for the first time on Digital August 11, 2020 and Blu-ray™ and DVD on August 25, 2020 from Universal Pictures Home Entertainment. Renowned director Judd Apatow (Trainwreck, Knocked Up, The 40-Year-Old Virgin) directs Davidson in "an emotional and comic knockout" (Rolling Stone) about love, loss and laughter on Staten Island. THE KING OF STATEN ISLAND comes home with over two hours of never-before-seen bonus content.

Scott (Davidson) has been a case of arrested development ever since his firefighter father died when he was seven. He's now reached his mid-20s having achieved little, chasing a dream of becoming a tattoo artist that seems far out of reach. As his ambitious younger sister (Maude Apatow) heads off to college, Scott is still living with his exhausted ER nurse mother (Oscar®- winner Marisa Tomei) and spends his days smoking weed, hanging with his buddies and...

Continue reading: THE KING OF STATEN ISLAND arrives on Digital Aug. 11 and on Blu-ray, DVD Aug. 25 from Universal in News.
Double Feature SEA LEVEL and SEA LEVEL 2 on DVD, Digital
Have twice the fun for the entire family with this animated double feature that includes Sea Level and the all-new Sea Level 2: Magic Arch, arriving on DVD, Digital, and On Demand September 29 from Lionsgate. These underwater adventures will be available on one disc for the suggested retail price $16.98.

SEA LEVEL OFFICIAL SYNOPSIS
Pup, a bamboo shark, discovers egg sacs while playing around the ocean with his friends. When he sees human poachers stealing the eggs from his reef, Pup makes it his mission to save his family. As he leaves the sea and enters the beautiful, yet dangerous, world of humans, he will prove he isn't too small to save his family.

SEA LEVEL 2: MAGIC ARCH OFFICIAL SYNOPSIS
This thrilling, colorful comedy will take your family under the sea to a land of courage and adventure...

Continue reading: Double Feature SEA LEVEL and SEA LEVEL 2 on DVD, Digital, On Demand Sept. 29 from Lionsgate in News.
Small Signal Audio Design, 3rd Edition
Focal Press and Routledge have published Small Signal Audio Design, 3rd Edition.

Small Signal Audio Design is a highly practical handbook providing an extensive repertoire of circuits that can be assembled to make almost any type of audio system. The publication of Electronics for Vinyl has freed up space for new material, (though this book still contains a lot on moving-magnet and moving-coil electronics) and this fully revised third edition offers wholly new chapters on tape machines, guitar electronics, and variable-gain amplifiers, plus much more. A major theme is the use of inexpensive and readily available parts to obtain state-of-the-art performance for noise, distortion, crosstalk, frequency response accuracy and other parameters. Virtually every page reveals nuggets of specialized knowledge not found anywhere else. For example, you can improve the offness of a fader simply by adding a resistor in the right place- if you know the right place...

Continue reading: Small Signal Audio Design, 3rd Edition from Focal Press and Routledge in News.
Python One-Liners: Write Concise, Eloquent Python
Python One-Liners will teach you how to read and write "one-liners": concise statements of useful functionality packed into a single line of code. You'll learn how to systematically unpack and understand any line of Python code, and write eloquent, powerfully compressed Python like an expert.

The book's five chapters cover tips and tricks, regular expressions, machine learning, core data science topics, and useful algorithms. Detailed explanations of one-liners introduce key computer science concepts and boost your coding and analytical skills.

You'll learn about advanced Python features such as list comprehension, slicing, lambda functions, regular expressions, map and reduce functions, and slice assignments...

Continue reading: Python One-Liners: Write Concise, Eloquent Python Like a Professional from No Starch Press in News.
ENTER THE FORBIDDEN CITY on Blu-ray, DVD and Streaming
Set in the Qing dynasty 230 years ago, this lush, epic drama brings to life the historical origins of Peking opera through the tale of two young opera singers who risk their lives to perform for the emperor at a special celebration for his 80th birthday.

Directed by Mei HU and written by Zou Jingzhi (Zhang Yimou's "Coming Home," Wong Kar Wai's "The Grandmaster"), the film won the Chinese American Film Festival's top prizes for best director and best feature film earlier this year and will forgo a planned theatrical release and to be released on Bluray, DVD and On Demand by Cinema Libre Studio starting August 18th.

Based entirely on historical events and figures from the Qing Dynasty, the period in which Peking Opera first began to flourish in Imperial China, the film was...

Continue reading: ENTER THE FORBIDDEN CITY arrives on Blu-ray, DVD and Streaming Aug. 18 from Cinema Libre in News.
Tobii Eye Tracker 5 for Gamers

Tobii, the global leader in eye tracking, has released its new cutting-edge PC gaming peripheral, the Tobii Eye Tracker 5. Engineered for gaming, the new eye tracker brings enhanced speed and responsiveness, more robust head tracking, and a new universal mount to fit a variety of screen types. Replacing the current Tobii Eye Tracker 4C, Tobii Eye Tracker 5 is available now.

Designed specifically for gaming, the Tobii Eye Tracker 5 translates the player's eye and head movements into data to enable new levels of game control, game analytics and streaming.

"We are thrilled to launch Tobii Eye Tracker 5, which is designed specifically for gamers who aim to level up their game performance, improve their game experience, or improve the content they stream," said Anand Srivatsa, Division CEO of Tobii Tech...

Continue reading: Introducing the Tobii Eye Tracker 5 for Gamers That Want the Extra Edge in News.
LG PH30N Portable CineBeam Projector

LG Electronics USA announced the arrival of the latest edition to its CineBeam projector lineup with the debut of the compact and ultra-portable LG CineBeam projector (model PH30N).

Now available at LG.com and LG-authorized dealers nationwide at a suggested retail price of $399.99, the PH30N joins LG's portfolio of critically-acclaimed smart home cinema solutions. The convenient and lightweight design - 5"x5"x1.5" and weighing just 1.1 pounds - allows consumers to carry it anywhere while providing an impressive home theater experience with a deep and rich picture in 1280 x 720 HD resolution up to 100 inches (measured diagonally), and brightness of 250 ANSI lumens.

The ultra-light PH30N all-in-one solution will fit in virtually any size bag or pack when on the move offering consumers the flexibility to take it anywhere...

Continue reading: LG Launches New Ultra-Portable HD LED CineBeam Projector - PH30N in News.
DC Showcase - Batman: Death in the Family on Blu-ray and Digital
Five fascinating tales from the iconic DC canon, including the first interactive film presentation in Warner Bros. Home Entertainment (WBHE) history, come to animated life in DC Showcase – Batman: Death in the Family. Produced by Warner Bros. Animation and DC, the anthology of 2019-2020 animated shorts arrives from WBHE on Blu-ray and Digital starting October 13, 2020.

Anchoring the compilation of shorts is Batman: Death in the Family, WBHE's first-ever venture into interactive storytelling that allows fans to choose where the story goes through an innovative navigation guided by the viewer's remote control. Central to the extended-length short is an adaptation of "Batman: A Death in the Family," the 1988 landmark DC event where fans voted by telephone to determine the story's ending.

Inspired by characters and stories from DC's robust portfolio, the 2019-2020 series of shorts – which have been individually included on DC Universe Movies releases since Summer 2019 – include:...

Continue reading: DC Showcase - Batman: Death in the Family arrives on Blu-ray and Digital Oct. 13 from Warner Bros. in News.
SWANS: Where Does A Body End? on Blu-ray and DVD
Where Does a Body End? is an intimate portrait of the band SWANS, from their roots as a brutal, confrontational post-punk band that emerged from the same early 1980s era NYC that gave us Sonic Youth (and, somehow, Madonna) through their ill-fated bid at mainstream success in the 90s indie-rock gold rush, through breakups and chaos (on and offstage) to their odds-defying current status as one of the most accomplished and ambitious bands in the world, one whose concerts are more like ecstatic rituals than nostalgic trips back through their most popular songs.

SWANS has always been a collection of singular performers, but there's been one constant since its formation in 1982--singer, songwriter Michael Gira. With unfettered access to hundreds of hours of Gira / SWANS archives of never-seen-before recordings, videos, and photographs, the film brings us along the path they needed to carve for themselves. The film is many things, a musical history, a...

Continue reading: SWANS: Where Does A Body End? arrives on Blu-ray and DVD Sept. 11 from MVD Entertainment in News.
Supernatural Horror EVIL BOY on DVD and Digital
After their son disappears, grieving parents adopt a feral boy who begins to eerily resemble their missing child in the terrifying supernatural horror film EVIL BOY, scaring fans on Digital and DVD September 8 from Well Go USA Entertainment.

While the wife believes they found their son, her husband is certain he died—and suspects they've adopted something not entirely human … EVIL BOY had its international premiere at the 2019 Brussels International Fantastic Film Festival and this release features an all-new English dub, in addition to its original subtitled soundtrack.

Directed by first film feature filmmaker Olga Gorodetskaya, EVIL BOY stars Elena Lyadova (Leviathan), Vladimir Vdovichenkov (Leviathan), newcomer Sevastian Bugaev, Evgeniy Tsyganov (The Man Who Surprised Everyone), Anna Ukolova (Leviathan), Konstantin Topolaga (Steel Butterfly) and Roza Khayrullina (The Horde)...

Continue reading: Supernatural Horror EVIL BOY arrives on DVD and Digital Sept. 8 from Well Go USA in News.
THE OUTPOST on Blu-ray and DVD
THE OUTPOST will be available August 18 on Blu-ray™ & DVD through Cinedigm (NASDAQ: CIDM) at all major retailers including Walmart, Best Buy, Target and Transworld. Based on the critically acclaimed bestseller by CNN's Jake Tapper, THE OUTPOST is an incredible true story of strength, sacrifice and bravery. The film, which debuted as the No. 1 movie on Apple its opening weekend and has remained there for 3 straight weeks, heralds an all-star cast including Orlando Bloom (Lord of the Rings), Scott Eastwood (Suicide Squad), Caleb Landry Jones (Get Out) and Milo Gibson (Hacksaw Ridge, Gangster Land).

In THE OUTPOST, a small unit of U.S. soldiers, alone at the remote Combat Outpost Keating, located deep in the valley of three mountains in Afghanistan, battles to defend against an overwhelming force of Taliban fighters in a coordinated attack. The Battle of Kamdesh, as it was known...

Continue reading: Cinedigm Announces Blu-ray and DVD Availability of Gritty War Drama THE OUTPOST in News.
THE GREAT Season One on DVD
The "lush, droll, boundary-pushing" (Vanity Fair) "wonderfully bombastic" (Paste) new series "THE GREAT" Season One arrives on DVD October 20, 2020 from Paramount Home Entertainment. Season One is now available for purchase on Digital platforms.

Created and executive produced by Academy Award® and Golden Globe® nominee* Tony McNamara (The Favourite​), "THE GREAT" is a satirical, comedic drama—and occasionally true story—about the rise of Catherine the Great (Elle Fanning) from outsider to the longest reigning female ruler in Russia's history. An idealistic romantic young girl, she arrives from Prussia for an arranged marriage to the mercurial Emperor Peter (Nicholas Hoult) hoping for love and sunshine, and finds instead a dangerous, depraved, backward world that she resolves to change. All she has to do is kill her husband, beat the church, baffle the military and get the court on her side.

Certified Fresh on Rotten Tomatoes®, "THE GREAT" Season One debuted on Hulu in the U.S. in May and has been renewed for a second season...

Continue reading: THE GREAT Season One arrives on DVD October 20th from Paramount in News.
Aqara Water Leak Sensor for Home Automation
After Aqara's successful release of its Smart Wall Switches and Aqara Cube, they are now releasing the Aqara Water Leak Sensor on Amazon.com.

Water leak sensors are making it easy for people to check for water leaks from anywhere 24/7. The sensors help to prevent unnecessary damage and potential home disasters by catching a leak early. The Aqara Water Leak Sensor is a great choice if users are looking for reliability. It is small, discreet, and can fit anywhere. It has a very appealing design, and it comes at a competitive price.

The Aqara Water Leak Sensor can detect flooding, while also monitoring the status of any water leaks. When the water level of the detection site is higher than 0.5mm, the sensor will sound, and the mobile phone app will receive a notification to remind the user to take appropriate action...

Continue reading: Aqara releases Water Leak Sensor for Home Automation in News.
Logitech G915 TKL Tenkeyless Gaming Keyboard

Logitech G, a brand of Logitech (SIX: LOGN) (NASDAQ: LOGI) and leading innovator of gaming technologies and gear, has announced the Logitech G915 TKL Tenkeyless LIGHTSPEED Wireless RGB Mechanical Gaming Keyboard, offering the same core technologies and experience of the award-winning G915, in a smaller tenkeyless form factor.

The G915 TKL delivers high performance LIGHTSPEED wireless technology, LIGHTSYNC RGB and low profile mechanical gaming switches for an unrivaled ultra-thin design with superior performance and precision gameplay - all with up to 40 hours of battery life. All of these technologies and innovations have been carefully engineered into one of the industry's thinnest mechanical keyboards and Logitech G's most advanced mechanical gaming keyboard to date.

"Since the launch of the original Logitech G915, the community has consistently asked for the same technology in a compact, tenkeyless design," said Ujesh Desai, vice president and general manager of Logitech Gaming...

Continue reading: Logitech G Introduces G915 TKL, a More Compact Tenkeyless Gaming Keyboard in News.
Anker PowerExpand Elite 13-in-1 Thunderbolt 3 Dock
Anker Innovations, a global leader in mobile charging and consumer electronics, has announced its new PowerExpand Elite 13-in-1 Thunderbolt 3 Dock, a best-in-class USB-C productivity solution.

This new dock features dual-display connectivity via Thunderbolt and HDMI ports, allowing users to connect two external monitors at once. It also provides Power Delivery pass-through computer charging, delivering up to 85W of power while in use.

"We are excited to work with the tech leaders at Intel to combine Anker's fast-charging technology with the highly-efficient connectivity of Thunderbolt 3," said Steven Yang, CEO of Anker Innovations. "We hope that artists, content creators, and other users who need a multitude of hardware tools available to them at once will find our PowerExpand Elite 13-in-1 Thunderbolt 3 Dock to be exactly what they need..."

Continue reading: Anker Innovations Launches New Thunderbolt 3 Dock - PowerExpand Elite 13-in-1 in News.
BACK TO THE FUTURE: THE ULTIMATE TRILOGY on 4K, Blu-ray and DVD
Great Scott! In 1985, Director Robert Zemeckis, Executive Producer Steven Spielberg and Producer/Screenwriter Bob Gale embarked on a three-part journey through time that broke box-office records worldwide and catapulted BACK TO THE FUTURE into one of the most beloved trilogies in motion picture history.

Universal Pictures Home Entertainment celebrates the 35th Anniversary of the groundbreaking first film with BACK TO THE FUTURE: THE ULTIMATE TRILOGY available on 4K Ultra HD for the first time ever on October 20, 2020 - just in time to celebrate "Back to the Future Day" on October 21! This collection is loaded with bonus material including a bonus disc that comes with over an hour of brand-new content such as rare audition footage from Hollywood stars Ben Stiller, Kyra Sedgwick, Jon Cryer, Billy Zane, Peter DeLuise and C. Thomas Howell, a tour of the film's props and memorabilia hosted by co-writer/producer Bob Gale, a sneak peek at the new musical show, and a special episode of the popular YouTube Series "Could You Survive The Movies?" Join Marty McFly (Michael J. Fox), Doc Brown (Christopher Lloyd) and a time traveling DeLorean for the adventure of a lifetime as they travel to the past, present and future, setting off a time-shattering chain reaction that disrupts the space-time continuum!...

Continue reading: BACK TO THE FUTURE: THE ULTIMATE TRILOGY arrives on 4K Ultra HD, Blu-ray and DVD Oct. 20 from Universal Pictures in News.
A WHITE, WHITE DAY on DVD and Digital
From Acclaimed Director Hlynur Pálmason Comes an Official Selection and Festival Favorite at Cannes and TIFF, Certified Fresh By Rotten Tomatoes at 97%; the DVD Includes the Bonus Short Film "Seven Boats" by Pálmason.

SYNOPSIS
In A WHITE, WHITE DAY, an off-duty police chief (a chilling Ingvar Sigurdsson, who received Cannes Critics' Week award for Best Actor for his performance) in a remote Icelandic town, begins to suspect a local man of having had an affair with his late wife, who died in a tragic accident two years earlier.

Gradually his obsession for finding out the truth takes over his life and inevitably begins to endanger himself and his loved ones. Combining classic thriller tropes with a distinctly Nordic arthouse sensibility, A WHITE, WHITE DAY, the second feature from Hlynur Pálmason "engages in storytelling that's both powerful and fresh throughout, marking him as a talent to watch" (The Hollywood Reporter)...

Continue reading: Gritty Nordic Noir A WHITE, WHITE DAY arrives on DVD and Digital Aug. 11 from Film Movement in News.
EINSTEIN'S UNIVERSE Documentary on Blu-ray
Based on Nigel Calder's best-selling book "Einstein's Universe", this fascinating documentary of the same name has been digitally re-mastered and restored to deliver Einstein's greatest achievement to home audiences like never before!

Narrated by the charismatic Peter Ustinov and hosted by author Calder, EINSTEIN'S UNIVERSE was first broadcast on the centenary of Albert Einstein's Birth; March 14th, 1979. In the joint BBC/WGBH-produced program, Ustinov gives home audiences front row seats to scientific theory and history at the renowned University of Texas-Austin McDonald Observatory.

There, he is thoroughly enlightened on Einstein's greatest achievements, especially General Relativity...

Continue reading: EINSTEIN'S UNIVERSE, an Acclaimed Documentary arrives on Blu-ray August 25 from Corinth Films in News.
Apricorn Aegis Secure Key 3NXC
Apricorn, the leading manufacturer of software-free, 256-bit AES XTS hardware-encrypted USB 3.2 storage devices, has launched the Aegis Secure Key 3NXC – the first device of its kind with a USB-C connector. This makes it the only hardware-encrypted flashkey that is compatible with the next generation of laptops, smartphones, tablets and hubs, without the need for a separate A-to-C adapter.

Designed with the USB 3.2 ports of the next generation of computers, tablets, smartphones and hubs, the Secure Key 3NXC is Apricorn's--and the market's--first hardware-encrypted flash key to be compatible with USB 3.2 C-ports without the aid of a separate A-to C adapter. Like its predecessor, the Secure Key 3NX, the Secure Key 3NXC line is priced to economically and efficiently protect the data of the expanding global remote workforce while delivering all of the advanced security features found in the Aegis family of secure drives. By offering a range of 6 storage capacities from 4GB to 128GB, the Secure Key 3NXC allows the IT admin to closely align the device capacity with the storage needs of each individual employee, reducing overall cost of deployment...

Continue reading: Apricorn Releases the First Hardware-Encrypted USB Flash Key with C-Type Connector - Aegis Secure Key 3NXC in News.
Kingston 128GB Encrypted USB Flash Drives

Kingston Digital, Inc., the flash memory affiliate of Kingston Technology Company, Inc., a world leader in memory products and technology solutions, has announced the addition of 128GB capacity options to three of its encrypted USB flash drives. The drives are part of a full line of encrypted solutions to suit customer needs of all levels.

Consumers and organizations have become more aware of data privacy and protection needs due to regulations such as GDPR and CCPA. Additional data security options have become a necessity as work-from-home increases. The simple inclusion of encrypted USB flash drives into a daily workflow is a simple step to ensuring data is safe. Whether it's personal, company or client information, finding the right encrypted drive can make all the difference between peace of mind and the worry of loss of data.

DataTraveler® Locker+ G3® (DTLPG3) secures personal data with hardware encryption and password protection for a double layer of data security...

Continue reading: Kingston Adds 128GB Capacities to Encrypted USB Flash Drives in News.