Speck Protective Laptop Backpacks
Posted by Scott R. Garrigus


Speck announced a new line of backpacks built to protect the tech you rely on. Each bag fits either a 15-inch or 17-inch laptop and has additional space for gadgets, gear and everyday work or school essentials. The bags' carefully crafted features provide ultimate protection, organization and mobility for students, professionals and commuters alike.

The protective Laptop Business Backpack is equipped with shock-absorbing Viz Air bumpers on the bottom corners of the bag. These air-filled bumpers cushion your laptop and protect it when you set down the bag and from unexpected drops. It features three compartments for securing tablets, headphones, other tech accessories and everyday essentials, such as pens and notebooks. Padded straps provide extra comfort when carrying around all of your gear. The Business Laptop Backpack is ideal for travelers because the rear compartment zips open flat, allowing you to leave your laptop in the padded sleeve while going through airport security...

Continue reading: Speck Launches Line of Protective Laptop Backpacks for Professionals and Back-to-School in News. - Comments (Reply To Topic)
Square Jellyfish Jelly-Grip Car Vent Mount
Posted by Scott R. Garrigus


Square Jellyfish announces the release of the Jelly-Grip Car Vent Mount, a car vent mount for your smartphone or GPS that won't fall off. Other car vent mounts use plastic clips, suction, friction or stickiness to stay on. The Jelly-Grip Car Vent Mount has a sturdy metal hook that latches on to the inside of the car vent and is tightened with a screw to keep the mount in place. It is almost impossible for the mount to loosen or fall off, a top complaint from users of other products. Smartphones fit horizontally or vertically in the spring mount claws, and the pivot ball joint allows you to rotate your phone to almost any angle. The spring mount claws easily screw off to reveal the pivot ball, which can accommodate a Garmin GPS with a 17 mm ball joint socket.

"We are eager to launch the third generation of this product. Jelly-Grip is designed by an engineer, and we are always striving to make our products work better for our customers," said Judie Kuhn, spokesperson for Square Jellyfish...

Continue reading: Finally, a Car Vent Mount that Won't Fall Off - the Jelly-Grip Car Vent Mount from Square Jellyfish in News. - Comments (Reply To Topic)
Photodex ProShow 8 Professional Slideshow Software
Posted by Scott R. Garrigus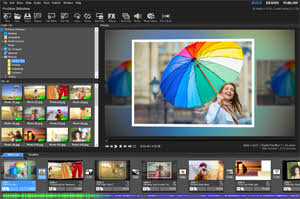 Photodex announced version 8 of its award-winning ProShow Gold and ProShow Producer products. ProShow is an easy-to-use software for Windows that allows photographers and enthusiasts to create high quality photo, video and audio slideshows. ProShow offers a wide-array of special effects, built-in tools and a royalty free music library for making extraordinary professional video slideshows to share online, disc, or any device.

New in ProShow 8 is a re-designed show wizard that gives users more control over a show's look and feel. A streamlined interface offers a one-stop-shop for mixing content, music, FX and settings to quickly produce a professional slideshow. The wizard automatically picks effects and timing based on the theme, music, and desired energy level.

New text bounding boxes in ProShow 8 offer improved control over caption layouts, enabling better looking designs and precise control of the interaction between text and imagery. New...

Continue reading: Photodex Launches ProShow 8 with a Streamlined Show Wizard and Enhanced Creative Options for Better Looking Slideshows in News. - Comments (Reply To Topic)
Seagate 10TB Guardian Series Hard Drives
Posted by Scott R. Garrigus


Seagate Technology plc (NASDAQ:STX), a world leader in storage solutions, has unveiled a new portfolio of 10TB high capacity drives dubbed the Guardian Series™. Purpose-built to help customers better manage and move the huge amounts of digital data they consume and create, the 10TB Seagate® BarraCuda® Pro desktop drive, Seagate IronWolf™ for NAS applications and Seagate SkyHawk™ for surveillance introduce new brand names and imagery and represent the most complete 10TB portfolio in the industry. The Guardian Series features industry leading technology that raises the bar on features, speed and capacity for use across a wide range of markets, including personal, creative and design computing, online gaming, small- and medium-sized businesses and large-scale surveillance systems.

"Consumers and organizations today face a similar challenge -- what to do about the massive deluge of data and video they confront every day," said Matt Rutledge, senior vice president of Client and Consumer Storage at Seagate...

Continue reading: Seagate Unveils the Industry's Broadest 10TB Portfolio - The New Guardian Series Hard Drives in News. - Comments (Reply To Topic)
The Garbage Collection Handbook: The Art of Automatic Memory Management
Posted by Scott R. Garrigus


CRC Press has published The Garbage Collection Handbook: The Art of Automatic Memory Management.Published in 1996, Richard Jones's Garbage Collection was a milestone in the area of automatic memory management. The field has grown considerably since then, sparking a need for an updated look at the latest state-of-the-art developments. The Garbage Collection Handbook: The Art of Automatic Memory Management brings together a wealth of knowledge gathered by automatic memory management researchers and developers over the past fifty years. The authors compare the most important approaches and state-of-the-art techniques in a single, accessible framework.

The book addresses new challenges to garbage collection made by recent advances in hardware and software. It explores the consequences of these changes for designers and implementers of high performance garbage collectors. Along with simple and traditional algorithms, the book covers parallel, incremental, concurrent, and real-time garbage collection. Algorithms and concepts are often described with pseudocode and illustrations...

Continue reading: The Garbage Collection Handbook: The Art of Automatic Memory Management from CRC Press in News. - Comments (Reply To Topic)
SMK-Link USB-C Multi-Port Hub
Posted by Scott R. Garrigus


SMK-Link Electronics, a subsidiary of SMK Electronics Corporation U.S.A., has introduced the USB-C Multi-Port Hub (Model VP6920). Designed for laptop computers using a USB-C port interface, the ultra-portable USB-C Multi-Port Hub enables multiple connectivity options, including a USB-C charging port, an HDMI HD/4K video port, a Gigabit Ethernet Port, three high-speed USB 3.0 Ports, and SD & Micro SD Memory Card Readers.

"Utilizing a single USB-C port, our new USB-C Multi-Port Hub enables all of the computer connectivity you'll ever need: providing the options of a desktop docking station in a portable size," said John Blair, General Manager of Branded Products for SMK-Link Electronics. "Replacing a handful of adapters, the Multi-Port Hub does not require power to supply HDMI, network adapter, SD Card Reader and USB 3.0 connections. Plugged in, however, it also provides power to external USB drives while charging your laptop...

Continue reading: New USB-C Multi-Port Hub Provides the Power of a Desktop Docking Station in a Portable Size in News. - Comments (Reply To Topic)
Samsung Notebook 7 spin 2-in-1 Laptop
Posted by Scott R. Garrigus


Samsung Electronics America, Inc. has announced availability of the Samsung Notebook 7 spin, a new laptop convertible 2-in-1 that easily converts into a tablet for business users who require flexibility both in the office and on the go. Available in 13.3- and 15.6-inch models, the new enterprise ready devices run Windows 10 Pro and come equipped with a number of features that enable users to work harder and better.

"The Notebook 7 spin is a testament to Samsung's mission to design with purpose, providing professionals with a flexible solution that does not lock users in to just one form factor or set of features," said Eric McCarty, Vice President Enterprise Mobile Product Marketing. "Offering the flexibility of a convertible 2-in-1, housed within a modern laptop design, this new device gives users the tools they need to enhance collaboration and be more efficient in and out of today's workplace..."

Continue reading: Samsung Launches Versatile and Powerful Notebook 7 spin in News. - Comments (Reply To Topic)
TRICK OR TREATERS on DVD, Digital HD and On Demand
Posted by Scott R. Garrigus


A spook-tacular adventure that's entertaining at any age, Trick or Treaters arrives on DVD, Digital HD and On Demand from Anchor Bay Entertainment and The Weinstein Company, as well as on Digital HD and On Demand, on September 6, 2016. Just in time for Halloween, celebrate the holiday with a hauntingly delightful animated story about generosity, compassion and learning a valuable lesson when it's least expected.

Trick or Treaters follows an orphan named Tiffany, traveling by carriage to a dreary castle high in the mountains, where her wicked aunt runs a home for orphans. On the way to the castle, Tiffany ends up in the hands of three robbers – and considers herself lucky as can be! With a childish lie, she makes them believe that she's a princess from India worth millions of jewels...

Continue reading: TRICK OR TREATERS Arrives On DVD, Digital HD and On Demand September 6 from Anchor Bay Entertainment in News. - Comments (Reply To Topic)
EQUALS on Blu-ray and DVD
Posted by Scott R. Garrigus


Nicholas Hoult and Kristen Stewart star as star-crossed lovers in the intensely moving Equals, arriving on Blu-ray (plus Digital HD) and DVD (plus Digital) on September 6 from Lionsgate. Equals reveals the risks one couple takes for love in a world where feelings are considered a "disease." The film had its world premiere at the 2015 Venice International Film Festival and was theatrically released by A24. Also starring Jacki Weaver and Guy Pearce, Equals will be available on Blu-ray and DVD for the suggested retail price of $24.99 and $19.98, respectively. Story by Drake Doremus. Screenplay by Nathan Parker. Directed by Drake Doremus.

OFFICIAL SYNOPSIS: In this gripping and emotional sci-fi romance from acclaimed director Drake Doremus (Like Crazy), Kristen Stewart and Nicholas Hoult play Nia and Silas, two people who work together in a futuristic society known as "The Collective..."

Continue reading: EQUALS Available on Blu-ray and DVD September 6 from Lionsgate in News. - Comments (Reply To Topic)
BARBARIANS RISING on Blu-ray, DVD and Digital HD
Posted by Scott R. Garrigus


Experience the rise and fall of the Roman Empire in HISTORY®'s epic four-part miniseries, Barbarians Rising™, arriving on Blu-ray™ (plus Digital HD) and DVD (plus Digital) on September 27 from Lionsgate.

Along with stunning drama sequences from the perspective of barbarian icons — Hannibal, Spartacus, Arminius, Boudica, and Attila — this thrilling saga also includes extensive interviews from authoritative historical experts and contributors. HISTORY®'s Barbarians Rising™ will be available on Blu-ray™ and DVD for the suggested retail price of $19.99 and $19.98, respectively.

OFFICIAL SYNOPSIS: Action-packed visuals and reenactments bring to life the epic stories of how the brave barbarians waged a 700-year fight for freedom, bringing the mighty Roman Empire to its knees and shaping the world to come...

Continue reading: BARBARIANS RISING on Blu-ray, DVD and Digital HD September 27 from Lionsgate in News.
BE SOMEBODY on DVD
Posted by Scott R. Garrigus


Two teens from very different worlds discover that they have a lot more in common than they ever imagined in the romantic drama BE SOMEBODY, arriving on DVD September 13, 2016 from Paramount Home Media Distribution. Social media superstar Matthew Espinosa stars as teen pop star Jordan Jaye, who just wants to live like a regular teenager.   When he's chased down by some excited female fans, he finds a perfect hideout and a reluctant new friend in a small town high school art student named Emily Lowe (Sarah Jeffery, Descendants). Over the course of several days, the two embark on an unexpected journey of friendship, first love and self-discovery -- proving that maybe opposites really do attract.

Espinosa, who makes his feature film debut in BE SOMEBODY, has more than 18 million followers on social media and more than 1 billion loops/views on Vine...

Continue reading: BE SOMEBODY arrives on DVD September 13th from Paramount in News. - Comments (Reply To Topic)
NOW YOU SEE ME 2 on 4K, Blu-ray, DVD, and Digital HD
Posted by Scott R. Garrigus


The Four Horsemen are back for a second act to pull off their most impossible heist yet as they try to clear their names in Now You See Me 2, arriving on Digital HD August 23 and on 4K Ultra HD Combo Pack (plus Blu-ray and Digital HD), Blu-ray Combo Pack (plus DVD and Digital HD) and DVD (plus Digital) September 6 from Lionsgate's Summit Entertainment label. The star-studded follow-up to the multimillion-dollar box-office hit features Jesse Eisenberg (The Social Network), Mark Ruffalo (The Avengers), Woody Harrelson (The Hunger Games franchise), Dave Franco (Nerve), Daniel Radcliffe (Harry Potter franchise), Lizzy Caplan (Cloverfield), Jay Chou (The Green Hornet), Sanaa Lathan (Repentance) with Michael Caine (The Dark Knight) and Morgan Freeman (The Shawshank Redemption).

The Four Horsemen (Eisenberg, Harrelson, Franco, Caplan) return for a second mind-bending adventure, elevating the limits of stage illusion to new heights and taking them around the globe. One year after outwitting the FBI and winning the public's adulation with...

Continue reading: NOW YOU SEE ME 2 on Digital HD Aug. 23 and 4K Ultra HD Combo Pack, Blu-ray Combo Pack, and DVD Sept. 6 from Lionsgate in News. - Comments (Reply To Topic)
I AM SETSUNA for PlayStation 4 and PC on STEAM
Posted by Scott R. Garrigus


Fans of impactful narratives and classic gameplay are sure to delight in today's release of I AM SETSUNA™ for the PlayStation®4 computer entertainment system and STEAM®. The debut title from Tokyo RPG Factory delivers an emotional and unforgettable story of bravery and sacrifice, along with beautiful art design and masterful character development.

The game follows the story of Setsuna, a young woman of incredible power and inner strength, on her journey of sacrifice to save the people of her land. The word "setsuna," derived from the Japanese "setsunai," conveys bittersweet sorrow and serves as the foundational theme of the game. The aim of the development team was to help global audiences better understand this concept through the fullness of the game...

Continue reading: I AM SETSUNA Now Available for PlayStation 4 and PC on STEAM from Square Enix in News. - Comments (Reply To Topic)
Free State of Jones on Blu-ray, DVD, and Digital HD
Posted by Scott R. Garrigus


Matthew McConaughey (Intersteller, Dallas Buyers Club) delivers a towering performance as Mississippi farmer turned rebellious revolt leader in the action-drama Free State of Jones, a powerful account of an extraordinary uprising against the Confederacy during the civil war. Based on a true, little-known story, the epic film arrives on Digital HD on September 6, 2016 and on Blu-ray™, DVD and On Demand on September 20, 2016 from Universal Pictures Home Entertainment. From STX Entertainment (The Gift, Bad Moms), Free State of Jones also stars Keri Russell (Planet of the Apes, "The Americans") and Gugu Mbatha-Raw (Concussion, Beyond The Lights).

Oscar® winner Matthew McConaughey stars in this epic, untold true story of defiant Southern farmer, Newt Knight and his extraordinary armed rebellion against the Confederacy during the Civil War...

Continue reading: Free State of Jones on Digital HD 9/6 and Blu-ray, DVD and On Demand 9/20 from Universal Pictures in News. - Comments (Reply To Topic)
---
---