Wacom Educational Bundles for Pen Devices

With many schools and universities forced to shift to online teaching, Wacom is committed to provide teachers and students with innovative solutions to tackle the challenges of remote teaching, e-learning and online collaboration. Therefore, Wacom is partnering with five leading educational software applications, that make the transition to online education as smooth as possible. The edtech solutions from Collaboard, Explain Everything, Kamiapp, Limnu and Pear Deck help teachers to better navigate remote teaching. Combined with the intuitive and natural pen experience of the Wacom One pen display or Wacom Intuos pen tablet, they provide easy to use interactive whiteboards, video recording and real-time collaboration for the virtual classroom. As a bundle, Wacom and its partners offer teachers everything they need to interact naturally with their students for engaging lessons and facilitated communication. And because Wacom devices are compatible with all major operating systems and independent of software updates, they stay fully functional for many years – in the classroom, at home or in any other work environment.

"The pen is a powerful tool and it has been used in education for centuries," says Faik Karaoglu, Executive Vice President of Wacom's Branded Business...

Continue reading: Wacom provides Educational Software Bundles for the Wacom One and Wacom Intuos Pen Devices in News.
Kingston Digital 128GB DataTraveler 2000 Encrypted USB

Kingston Digital, Inc., the Flash memory affiliate of Kingston Technology Company, Inc., a world leader in memory products and technology solutions, announces the availability of the 128GB DataTraveler® 2000 encrypted USB flash drive.

DataTraveler 2000 features an alphanumeric keypad that allows users to lock the drive with a word or number combination for an easy-to-use PIN, providing an extra layer of protection. For additional security, an auto-lock feature is activated when the drive is removed from the host device if not properly shut down before ejection.

"While lower capacity drives offer their own benefits, larger capacity encrypted drives have become a necessity with the need to transfer higher amounts of sensitive data files as more people work from home," said Richard Kanadjian, encrypted USB business manager, Kingston...

Continue reading: Kingston Digital Releases 128GB Capacity Addition to DataTraveler 2000 Encrypted USB in News.
New Arrow Video December 2020 Titles
2020 has been a tough year for us all, leaving many to look forward to 2021. Arrow is looking to send us out on a high note with another stunning lineup of releases. Grab some popcorn, sit back, and start 2021 on the right foot by ending 2020 with some of the year's best Blu-ray releases.

Arrow opens the month with three titles releasing on December 8. First up is the classico Italiano, Cinema Paradiso. Loosely based on the story of the Protti family, a filmmaker recalls his childhood growing up at his local cinema and the bond he built for the theater's projectionist. Cinema Paradiso was a box-office hit and is widely regarded as a classic, winning the Oscar for Best Foreign Language Film at the 62nd Academy Awards. Arrow will release the film on DVD, Blu-ray, and 4K Ultra HD.

The second December 8 title is Survivor Ballads: Three Films by Shohei Imamura...

Continue reading: Variety of New Titles arrive from Arrow Video in December 2020 in News.
Turtle Beach and ROCCAT Holiday Gaming Gear
Leading gaming accessory brand Turtle Beach (Nasdaq: HEAR) and its Hamburg, Germany-based PC peripheral brand, ROCCAT, charge into the 2020 holiday season with their strongest offering of high-quality gaming accessories ever. Highlights from Turtle Beach's 2020 lineup include the all-new and already best-selling Stealth 600 & 700 Gen 2 wireless console gaming headsets for MSRPs of $99.95 and $149.95. These headsets are designed to unleash immersive next-gen audio on the new Xbox Series X|S and PlayStation®5 and also work great with Xbox One and PS4™. Gamers seeking a great, affordable wired headset need look no further than the best-selling Recon 70 series, which come in a variety of colors and deliver powerful game sound, crystal-clear chat, and lightweight comfort for a MSRP of $39.95. Finally, Turtle Beach's flagship Elite Pro 2 headset delivers unwavering console gaming audio performance for serious, hardcore, and competitive players, starting at a MSRP of $129.95.

"Our 2020 lineup is the strongest in our history and I couldn't be prouder of what Turtle Beach and ROCCAT have achieved this year in delivering award-winning, top-selling console and PC gaming accessories," said Juergen Stark, CEO, Turtle Beach...

Continue reading: Turtle Beach and ROCCAT Deliver What Console and PC Gamers want this Holiday Season in News.
BORN A CHAMPION on Blu-ray, DVD and Digital
The inspirational mixed martial arts action film, Born a Champion fights its way into select theaters, on Digital, and On Demand January 22 from Lionsgate. The film will also be released on Blu-ray and DVD on January 26.

Starring Emmy® winner Sean Patrick Flanery (2010, Outstanding Guest Performer in a Digital Daytime Drama Series, "The Bay"), Katrina Bowden (TV's "30 Rock," "The Bold and the Beautiful"), and Golden Globe® nominee Dennis Quaid (2011, Best Performance by an Actor in a Limited Series or Motion Picture Made for Television, The Special Relationship), Born a Champion was directed by Alex Ranarivelo (American Wrestler: The Wizard, The Ride) and was written by Sean Patrick Flanery and Ranarivelo.

SYNOPSIS
Dennis Quaid (The Day After Tomorrow) and Sean Patrick Flanery (The Boondock Saints) headline this powerful martial arts action film about the love for family and the drive for greatness...

Continue reading: BORN A CHAMPION arrives on Digital Jan. 22 and on Blu-ray, DVD Jan. 26 from Lionsgate in News.
Verve Wishes You A Swinging Christmas
This holiday season, Verve Records/UMe is boxing up some of the most classic jazz holiday titles and wrapping them in a new vinyl box set titled Verve Wishes You a Swinging Christmas. This lavish collection brings together Ella Fitzgerald's Ella Wishes You a Swinging Christmas (1960), Kenny Burrell's Have Yourself a Soulful Little Christmas (1966), Ramsey Lewis's Sound of Christmas (1961) and Jimmy Smith's Christmas '64 (1964) (also known as Christmas Cookin') for the first time. With the holidays just around the corner, it's the perfect swinging, syncopated backdrop to get you in the Yuletide spirit and soundtrack your festivities.

Since the dawn of jazz, the genre's innovators have pulled material from all corners of the Great American Songbook and beyond as springboards for improvisation — and the Christmas canon is no exception...

Continue reading: Four Timeless Holiday Jazz Titles are Now Available in New Vinyl Set - Verve Wishes You A Swinging Christmas in News.
ELIZABETHTOWN on Blu-ray for the First Time
Oscar®-winning* director Cameron Crowe's beguiling romantic comedy ELIZABETHTOWN arrives for the first time ever on Blu-ray in time for Valentine's Day gift-giving as part of the Paramount Presents line on February 9, 2021 from Paramount Home Entertainment.

The limited-edition Paramount Presents Blu-ray Disc™ includes the film newly remastered from a 4K transfer supervised by Crowe. The disc is presented in collectible packaging that includes a foldout image of the film's theatrical poster, and an interior spread with key movie moments. The ELIZABETHTOWN Blu-ray also includes a new Filmmaker Focus with Crowe, never-before-seen deleted scenes, and an alternate ending with an introduction by Crowe. Along with access to a Digital copy of the film, the Blu-ray also includes previously released special features, including deleted and extended scenes with an introduction by Crowe, "On the Road to Elizabethtown," "The Music of Elizabethtown," "Meet the Crew" featurette, "Training Wheels" featurette, a photo gallery and more...

Continue reading: ELIZABETHTOWN arrives on Blu-ray for the First Time Feb. 9, 2021 from Paramount in News.
RAINING IN THE MOUNTAIN on Blu-ray for the First Time
In a remote monastery in 16th century (Ming Dynasty) China, corrupt monks conspire against each other for that plum job -- Head Monk -- and control of the ultimate MacGuffin: a crumbling Buddhist scroll in RAINING IN THE MOUNTAIN from legendary Touch of Zen director King Hu. One of two films (with Legend of the Mountain) made in South Korea by Wuxia master Hu -- both starring Taiwan/Hong Kong female superstar Hsu Feng (A Touch of Zen), here as the cunning "White Fox" – this martial arts classic will be released in a stunning, new 2K digital restoration on Blu-ray, DVD and digital platforms courtesy of Film Movement Classics.

RAINING IN THE MOUNTAIN gets underway as a Buddhist abbot charged with protecting the sacred scroll of Tripitaka prepares to name his successor...

Continue reading: RAINING IN THE MOUNTAIN arrives on Blu-ray for the First Time Dec. 8 from Film Movement in News.
Brydge 12.3 Pro+ Keyboard for Surface Pro
Brydge, a leader in high quality, productivity-focused peripherals, announced the availability of the 12.3 Pro+ keyboard for the Microsoft Surface Pro in Best Buy stores nationwide.

The Brydge 12.3 Pro+ transforms Microsoft's Surface Pro into a genuine laptop-like device at home, in the office, and in the classroom. Available in Silver (in-store & online) and Black (online only), the 12.3 Pro+ matches the Surface Pro 4, 5, 6 & 7 in design, quality and color.

Developed in partnership with Microsoft, the Brydge 12.3 Pro+ is the only third party tablet keyboard for Surface Pro in the Designed for Surface program.

"We are really excited to bring our Designed for Surface range to Best Buy customers. The Brydge 12.3 Pro+ brings lapability and versatility to the forefront for the Microsoft Surface Pro. The integrated touchpad with multi-touch gestures combined with a true laptop-like experience turns the Surface Pro into a productivity workhorse." - Toby Mander-Jones, Co-CEO and Founder of Brydge...

Continue reading: Brydge 12.3 Pro+ Keyboard for Surface Pro Now Available in News.
LinearFlux HyperCharger XX 8-in-1 Power Solution
LinearFlux, an emerging leader in mobile accessories, is proud to announce the launch of its CES Innovation award-winning HyperCharger XX™ – the world's only 8-in-1 wireless portable power and magnetic mounting solution (SRP: $59.99). The HyperCharger XX™ is the latest in a line of high-performance mobile chargers developed by LinearFlux. Using a combination of advanced proprietary charging and magnetic mounting technologies with innovative design and lifestyle features, the HyperCharger XX™ is the one phone accessory that users will not want to live without.

Versatile in Design, Use and Convenience
Designed for both Apple and Android phones, the HyperCharger XX™ features a variety of ports and technologies to power up devices. It can charge any smartphone and device with Qi-wireless charging technology including Apple iPhones from Generation 8 to the new iPhone 12. Unique to the HyperCharger XX™ is its ability to magnetically snap to any smartphone, desk or car magnetic mount. It also features a vibrant LED display that indicates the battery capacity and when it is in HyperBoost mode for rapid charging...

Continue reading: Introducing The Award-Winning LinearFlux HyperCharger XX 8-in-1 Power Solution in News.
DELTA RAE Coming Home To Carolina Deluxe Blu-ray
Earthy, familial alt-pop outfit Delta Rae skillfully juggle gospel-tinged country-rock, sensual blue-eyed soul, and harmony-laden Americana, resulting in an infectious, radio-ready sound. Formed in 2009 as a four-piece around the talents of siblings Ian, Eric, and Brittany Hölljes, along with Elizabeth Hopkins, the North Carolina-based band expanded to a sextet the following year with the additions of Mike McKee and Grant Emerson.

In 2011 the group inked a deal with Sire/Warner Bros. after a particularly impressive in-office audition for Seymour Stein, who was blown away by Hopkins and the Hölljes siblings' powerful voices. The resulting Carry the Fire, their major-label debut, arrived in 2012. Carry the Fire reached 11 on the U.S. Heatseekers chart and 13 on the folk chart. Delta Rae released their second album, After It All, in the spring of 2015. Following a relocation to Nashville, the band signed with Big Machine in 2017 and issued a pair of EPs - A Long and Happy Life and The Blackbird Sessions - in quick succession...

Continue reading: DELTA RAE Coming Home To Carolina Deluxe Blu-ray, DVD, CD Set arrives Nov. 20 from MVD Entertainment in News.
Batman: Soul of the Dragon on 4K, Blu-ray and Digital
Renowned animation producer Bruce Timm takes the Dark Knight back to the 1970s for a supernatural-laden martial arts extravaganza in Batman: Soul Of The Dragon, the next entry in the popular series of the DC Universe Movies. Produced by Warner Bros. Animation and DC, the feature-length animated film will be released by Warner Bros. Home Entertainment on Digital starting January 12, 2021, and on 4K Ultra HD Blu-ray Combo Pack and Blu-ray on January 26, 2021. Order due date is December 22, 2020. The film is rated R for some violence.

Batman: Soul Of The Dragon will be available on 4K Ultra HD Blu-ray Combo Pack (USA $39.99 SRP; Canada $44.98 SRP) and Blu-ray (USA $29.98 SRP; Canada $39.99 SRP) as well as on Digital. The 4K Ultra HD Blu-ray Combo Pack features an Ultra HD Blu-ray disc in 4K with HDR, a Blu-ray disc featuring the film in hi-definition, and a digital version of the movie. The Blu-ray features a Blu-ray disc with the film in hi-definition and a digital version of the movie.

Set in the midst of the swinging 1970s, this Elseworlds adventure finds Bruce Wayne...

Continue reading: Batman: Soul of the Dragon arrives on Digital Jan. 12 and on 4K UHD and Blu-ray Jan. 26 from Warner Bros. in News.
Cole Haan 4.ZEROGRAND Urban Hiker
Cole Haan, the iconic American performance lifestyle brand and retailer, announces the introduction of the 4.ZERØGRAND Hiker—and the end of stiff, heavy, old-school hiking boots as we know them.

The latest style to join the 4.ZERØGRAND franchise, the hiking boot combines all the comfort, traction, and weather protection needed for this winter season—with a special alchemy of athletic performance married to time honored Cole Haan craft previously unseen in hikers. Cole Haan first launched 4.ZERØGRAND innovation this past September, and the hiker continues to defy footwear convention and deliver the utmost in forward-thinking style, comfort, and versatility.

"Hiking Boots have been a Cole Haan bestseller for years," said David Maddocks, Brand President of Cole Haan...

Continue reading: Cole Haan Introduces World's Most Advanced Urban Hiker - the 4.ZEROGRAND Hiker in News.
New Titles from Warner Archive Collection in December 2020
Warner Bros. Home Entertainment brings consumers the opportunity to own more fan-favorite programming from the past several decades from the Warner Archive Collection. In December, three new TV and Animation titles will be released via Warner Archive including Tex Avery Screwball Classics: Volume Two for the first time in HD on Blu-rayTM Disc. Other titles being released in December are: The 100: The Seventh and Final Season on Blu-rayTM and DVD and Avenue 5: The Complete First Season on DVD.

TEX AVERY SCREWBALL CLASSICS: VOLUME TWO - Available on Blu-Ray AND DVD DECEMBER 1, 2020

Welcome back for another three-ring circus of animated comedy from the legendary leader of cartoon fun – director Tex Avery. In the first ring, Avery serves up some of his finest one-shot creations: cartoons featuring cats who hate people, wacky cuckoo clocks, kooky cavemen and lovelorn French fleas. We also meet up again with...

Continue reading: Warner Bros. Home Entertainment Announces December 2020 Titles from Warner Archive Collection in News.
SoClean Air Purifier and Device Disinfector
SoClean Inc., the innovative device company, has announced the launch of two new products, the first in a series of consumer items the company plans to release this year. The SoClean Air Purifier eliminates up to 99.9999% of airborne viruses, bacteria and allergens, providing next-generation air purification that far surpasses HEPA standards. The SoClean Device Disinfector kills up to 99.9%* of bacteria and viruses on high-touch everyday items, such as smartphones and key fobs.

"As a company grounded in innovation, we are always looking for new ways to expand our presence within the health technology industry and offer meaningful and relevant products to consumers," SoClean CEO Robert Wilkins said. "By leveraging SoClean's proprietary technology, we're offering two new devices that will provide hands-free solutions that kill viruses and bacteria in the air and on high-touch everyday items..."

Continue reading: SoClean Introduces the SoClean Air Purifier and the SoClean Device Disinfector in News.
Dremel Electric Screwdriver and Flashlight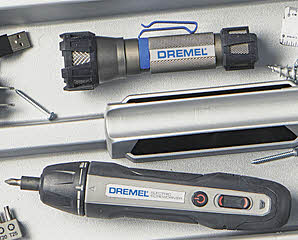 Dremel Home Solutions™ tools are part of a new line of tools sold exclusively at The Home Depot. The Dremel Home Solutions Electric Screwdriver and Flashlight inspire users to do more around the home and bring to life projects with ease and convenience. Slim and powerful, users can easily carry around either tool on a belt or in a pocket and when finished, store them in a kitchen drawer or toolbox.

"A cordless screwdriver and flashlight are always must-have tools for around the home and Dremel Home Solutions™ tools have some built in features that make them smarter and easier to use for all users," said Fulvio Camarotto, Dremel group product manager. "For example, with our electric screwdriver you have the most control you will ever experience in a cordless screwdriver and stripped screw heads, over-driven fasteners and damaged faceplates are a thing of the past." "With regard to our flashlight," Camarotto continued, "Because it holds a charge in storage for up to two years, it is made for everyone who has experienced having the flashlight but then searching the house to find replacements for its dead or missing batteries. It's always ready when you need it..."

Continue reading: Dremel introduces Electric Screwdriver and Flashlight products at Home Depot in News.
OWC Envoy Pro Elektron USB-C Bus-Powered SSD
OWC®, the premier zero-emissions Mac and PC technology company, and a respected provider of Memory, External Drives, SSDs, Mac & PC docking solutions, and performance upgrade kits, announces the new OWC Envoy Pro Elektron USB-C Bus-Powered SSD. This new portable drive puts pro-grade speeds, dust and waterproof ruggedness, and universal compatibility in the palm of your hand.

The OWC Envoy Pro Elektron is the fastest, toughest mini-sized SSD in the universe. Pocket-sized tiny, this USB-C bus-powered drive is crushproof, dustproof waterproof for editing/saving personal and work files anywhere at up to 1011MB/s real-world speed. That's like transferring 91 high res photos* per second or a 5GB movie in less than five seconds. The sleek, cool running aircraft-grade aluminum storage solution with drive status LED operates silently without a power adapter. With the included USB-C cable and Type-A adapter, the OWC Envoy Pro Elektron is plug and play compatible with Macs or PCs produced over the last decade, current models, and well into the future; as well as iPad Pro and Chromebook tablets...

Continue reading: OWC Announces Envoy Pro Elektron The Fastest, Toughest Mini-Sized USB-C Bus-Powered SSD in News.
KamiBaby All-In-One Smart Baby Monitor
Kami, the premium smart home security brand from YI Technology, announced today the global launch of KamiBaby, the first all-in-one smart baby monitor with artificial intelligence (AI). Just in time for holiday shopping and gift giving, KamiBaby with breakthrough technology offers parents the ability to check on their baby from afar via custom smart alerts for greater peace of mind, all in a playful design and at the industry's most competitive price of $139.99.

Powered by Edge Computing AI technology, KamiBaby offers a comprehensive series of smart features including baby cry detection; advanced microphone and speaker capabilities to record signing or storytelling and replay it with astonishing quality; humidity and temperature measuring with smart alerts; and a night light and wake up light to help parents during a nighttime diaper change without startling the baby. The advanced sleep cycle insights and sleep quality reports help parents track habits and development and an easily understandable app interface allows parents to check on the baby and receive activity notifications...

Continue reading: First All-In-One Smart Baby Monitor with Artificial Intelligence Now Available in Time for Holidays in News.
HOTLOGIC Mini XP and Max XP Portable Ovens
Elevate your taste and prepare to Heat Up this holiday season. If you're looking for the hottest gifts for anyone on your list, the fall collection of personal ovens from HOTLOGIC®, manufacturer and designer of popular portable + personal ovens, and commercial ovens, is your personal holiday hero.

In a new COVID-19 world, HOTLOGIC reduces mealtime stress and fears by providing a solution to heat better, tastier and safer with meals prepared and touched only by YOU. HOTLOGIC precisely cooks and reheats prepared meals, leftovers and frozen entrees to the perfect temperature and holds it there fo hours through its HeatDeck™ technology, preserving moisture and enhancing flavor.

"Trust, safety and control are the new table stakes in food prep and cooking," said Bill McKendry, Chief Marketing Officer at HOTLOGIC...

Continue reading: HOTLOGIC releases the New Mini XP and Max XP Portable Ovens in time for the Holidays in News.
Words on Bathroom Walls on Blu-ray, DVD, Digital
If you can't trust your mind, trust your heart when Words on Bathroom Walls arrives on Digital November 10 and on Blu-ray™ (plus Digital), DVD, and On Demand November 17 from Lionsgate.

This film is certified fresh by Rotten Tomatoes, and is based on the debut novel by Julia Walton. The film stars Charlie Plummer, Andy Garcia, Taylor Russell, AnnaSophia Robb, Beth Grant, Molly Parker, and Walton Goggins. Words on Bathroom Walls will be available on Blu-ray™ (plus Digital) and DVD for the suggested retail price of $24.99 and $19.98, respectively.

OFFICIAL SYNOPSIS
Adam (Charlie Plummer) is a witty, introspective teen pursuing his dream of becoming a chef. When Adam is diagnosed with a mental illness...

Continue reading: Words on Bathroom Walls is on Digital now and arrives on Blu-ray, DVD Nov. 17 from Lionsgate in News.
ELYSIUM arrives on 4K Ultra HD
In the year 2154, two classes of people exist: the very wealthy, who live on a pristine man-made space station called Elysium, and the rest, who live on an overpopulated, ruined Earth. Secretary Delacourt (Jodie Foster) will stop at nothing to preserve the luxurious lifestyle of the citizens of Elysium—but that doesn't stop the people of Earth from trying to get in by any means they can. Max (Matt Damon) agrees to take on a life-threatening mission, one that could bring equality to these polarized worlds.

BONUS MATERIAL

4K ULTRA HD BONUS DISC:
- Exoskeletons, Explosions and the Action Choreography of Elysium
- The Hero, The Psychopath and the Characters of Elysium
- The Art of the Elysium Miniatures
- Bugatti 2154
- Theatrical Trailers...

Continue reading: ELYSIUM arrives on 4K Ultra HD for the First Time February 9 from Sony Pictures in News.
Documentary THE 2020 WORLD SERIES on Blu-ray, DVD, Digital
Like so many events, the COVID-19 pandemic dramatically reshaped how this MLB season looked and felt. After navigating unprecedented challenges, playing a restructured regular season, a new postseason format and the first neutral site World Series in modern history, the historic 2020 season culminated in an unforgettable Fall Classic and with the Los Angeles Dodgers being crowned champions for the first time in since 1988.

Dodgers fans can rejoice and relive all the excitement, drama, and life-changing moments of the 2020 World Series® against the American League Champion Tampa Bay Rays, in the official 2020 World Series film from Major League Baseball. The documentary will be available in stores December 8, 2020 on a two-disc Blu-ray+DVD combo pack and DVD from Shout! Factory and Major League Baseball. It will also be available on the same date digitally, to own and rent from all major platforms.

Legendary Dodgers broadcaster Vin Scully lends his signature voice to "THE 2020 WORLD SERIES,"...

Continue reading: Documentary THE 2020 WORLD SERIES arrives on Blu-ray, DVD and Digital Dec. 8 from Shout! Factory in News.
The EALING STUDIOS COMEDY COLLECTION
In the 1940s and 50s, the U.K.'s Ealing Studios was the birthplace of the most delectable crop of movies to decorate postwar cinemas, a group of veddy British comedies that spoke to moviegoers around the globe. Their output not only helped define what was arguably the golden age of British cinema but also introduced audiences to beloved legends such as Alec Guinness, Stanley Holloway, Hugh Griffith, Margaret Rutherford, as well as fostered the emergence of talented directors such as Alexander Mackendrick (The Ladykillers, The Man in the White Suit) and Charles Crichton (A Fish Called Wanda, The Lavender Hill Mob).

THE EALING STUDIOS COMEDY COLLECTION brings together four of Ealing Studios' greatest and most classic comedies, all newly remastered from pristine vault materials in stunning HD...

Continue reading: The EALING STUDIOS COMEDY COLLECTION Brings Together Four Classic British Comedies from Film Movement in News.
Planet Coaster: Console Edition
Frontier Developments plc (AIM: FDEV) invites players everywhere to join the ride as it releases Planet Coaster: Console Edition on current and next-generation platforms. Available from today, Frontier's first ever next-gen title brings its irrepressible magic to Xbox Series X|S, Xbox One, PlayStation®4. PlayStation®5 will be available from November 12 in the US, Japan, Canada, Mexico, Australia, New Zealand and South Korea, and November 19 in the UK, Europe and the rest of the world. As a bonus, the pre-order incentive has been extended until November 24, so there's still time for players to get the fantastically whimsical coaster, Oswald's Magnificent Machine.

The highly successful coaster park management game features a whole host of ways to play, including a fully-voiced tutorial where a friendly cast of characters help get players of all experience levels up to speed; a varied challenge mode with four different difficulty settings provides the perfect skill test; alongside...

Continue reading: Planet Coaster: Console Edition is Out Now from Frontier Developments in News.
Classic THE COURT JESTER on Blu-ray for the First Time
The hilariously zany classic THE COURT JESTER celebrates its 65th anniversary with a brand-new Blu-ray in the Paramount Presents line, debuting January 26, 2021 from Paramount Home Entertainment.

Originally released in 1956, THE COURT JESTER was shot in Paramount's trademark "VistaVision" widescreen format, capturing a grander scope of information on the film negative. For this new restoration, the original negative was scanned at 6K and one of the "separation masters" was also scanned and recombined with the negative scans to address color fading in the negative. The result is an incredibly vibrant picture that faithfully captures the colors and textures of Edith Head's sensational costumes and Hal Pariera's sparkling art direction.

Danny Kaye earned a Golden Globe® nomination for Best Actor – Comedy or Musical for his leading role in this comic farce...

Continue reading: Newly Restored, THE COURT JESTER arrives on Blu-ray for the First Time Jan. 26 from Paramount in News.
The Wolf of Snow Hollow on Blu-ray, DVD, Digital
Terror strikes a small town when "The Wolf of Snow Hollow" arrives on Blu-ray and DVD. Written by, starring, and directed by Jim Cummings ("Thunder Road"), "The Wolf of Snow Hollow" is a new and mysterious reimagining of the classic werewolf legend. The film is available now on Digital.

From Metro Goldwyn Mayer's Orion Classics, "The Wolf of Snow Hollow" stars Robert Forster ("Jackie Brown," "The Descendants"), Riki Lindhome (television's "Duncanville), Jimmy Tatro (television's "Modern Family," "22 Jump Street"), Marshall Allman (television's "Prison Break"), Jim Cummings ("Thunder Road"), Chloe East (television's "Liv & Maddie"), and Annie Hamilton ("Dance Camp").

SYNOPSIS
A small-town sheriff, struggling with a failed marriage, a rebellious daughter, and a lackluster department, is tasked with solving a series of brutal murders that are occurring on the full moon...

Continue reading: The Wolf of Snow Hollow is Now on Digital and arrives on Blu-ray, DVD Dec. 15 from Warner Bros. in News.
TENET on 4K UHD, Blu-ray, DVD and Digital
"Tenet," the must-see motion picture event, playing now on the big screen wherever theatres are open, will arrive on 4K, Blu Ray, DVD and Digital on December 15 in time for the holidays. Written, directed and produced by acclaimed filmmaker Christopher Nolan ("Inception," "Dunkirk"), "Tenet" opened globally beginning in August 2020 and has grossed $350 million to date, with the much-anticipated theatrical openings in the major markets of New York and Los Angeles still to come. "Tenet" will be available to preorder from digital and physical retailers beginning November 10.

"Tenet" features an international ensemble cast led by John David Washington ("BlacKkKlansman," TV's "Ballers") as the Protagonist. The film also stars Robert Pattinson (the "Twilight" films, "The Lighthouse," upcoming "The Batman"), Elizabeth Debicki ("Guardians of the Galaxy Vol. 2," "The Great Gatsby"), Dimple Kapadia ("Angrezi Medium"), Martin Donovan ("Ant-Man," "Fahrenheit 451"), Fiona Dourif ("Cult of Chucky"), Yuri Kolokolnikov ("The Hitman's Bodyguard"), Himesh Patel ("Yesterday"), Clémence Poésy ("Harry Potter and the Deathly Hallows"), Aaron Taylor-Johnson ("The Avengers: Age of Ultron"), with Michael Caine ("Inception," "The Cider House Rules," "The Dark Knight") and Kenneth Branagh ("Dunkirk," "Murder on the Orient Express")...

Continue reading: TENET arrives on 4K UHD, Blu-ray, DVD and Digital Dec. 15 from Warner Bros. in News.
THE KILLING FLOOR on Blu-ray, DVD and Digital
Praised by The New Yorker as "a revelatory historical drama" and by The Village Voice as the most "clear-eyed account of union organizing on film," THE KILLING FLOOR (1984/1985) is the first feature film directed by Bill Duke and explores a little-known true story of an African American migrant in his struggle to help build an interracial union in the Chicago Stockyards. The screenplay by Obie Award-winner Leslie Lee is from an original story by producer Elsa Rassbach and is based on actual characters and events, tracing ethnic and class conflicts seething in the city's giant slaughterhouses, when management efforts to divide the workforce fuel racial tensions that erupt in the deadly Chicago Race Riot of 1919.

Damien Leake stars as Frank Custer, a young black sharecropper from Mississippi who lands a job on "the killing floor" of a meatpacking plant — one of tens of thousands of southern blacks who journeyed to the industrial north during World War One, hoping for more racial equality...

Continue reading: THE KILLING FLOOR arrives on Blu-ray, DVD and Digital Nov. 24 from Film Movement Classics in News.
Mean Man: The Story of Chris Holmes on Blu-ray, DVD, Digital
Written and directed by French filmmakers Antoine de Montremy and Laurent Hart (whose Music production career includes televised interviews with Scorpions, Deep Purple, Slayer, Guns N' Roses and more), MEAN MAN: The Story of Chris Holmes was a project that was born in 2014 after they had an opportunity to meet and direct Holmes in a music video for the Holmes-penned song "Let It Roar" in Cannes, France. At that time, the former W.A.S.P. guitarist had more or less disappeared from the music scene, leaving his home in the U.S. to seek a new beginning with his wife Sarah in France. Not content with merely directing a music video for the re-born Holmes, de Montremy pursued his bigger dream of writing and directing a documentary film about this iconic metal guitar legend and for the next several years shadowed him throughout Europe while filming everything from band rehearsals, to recording sessions to live performances.

By creatively combining archival footage, interviews with past and present band members and...

Continue reading: Mean Man: The Story of Chris Holmes on Blu-ray, DVD and Digital Jan. 15 from Cleopatra and MVD in News.
Elvis Costello Armed Forces Vinyl Box Set
Personally curated by Elvis Costello, The Complete Armed Forces is the definitive statement of the legendary songwriter and musician's revered and essential 1979 album, featuring the classic hits "Accidents Will Happen," "Green Shirt," "Oliver's Army" and "(What's So Funny 'Bout) Peace, Love & Understanding." Leaving no musical stone unturned, no lyric notebook unrifled through and no detail left out, this new super deluxe edition vinyl box set is a thorough excavation of Costello's vault from this metamorphic period of his early beginnings, painting as complete a picture as possible of the events that led to the making of the album, its creation, and the wild success that followed for him, and his band The Attractions, and ignited his career. Armed Forces is explored across nine pieces of vinyl (3 12-inch LPs, 3 10-inch LPs and 3 7-inch singles), including a new 2020 remaster of the album, B-sides, alternate versions and outtakes, demos, and a slew of live recordings – including 23 unreleased live tracks taken from three especially riotous concerts.

Releasing November 6 via UMe, The Complete Armed Forces will be exclusively available via Elvis Costello's official online store and UMG's online stores uDiscover and Sound of Vinyl, in two vinyl versions...

Continue reading: Elvis Costello Curates Definitive Time Capsule Of Classic Third Album - Armed Forces in News.